RCISD – Regional Centre for Information and Scientific Development Ltd.
Bela Kardon was born in Budapest on May 2, 1964. Dr Kardon has a long-standing experience in higher education, research and international cooperation He studied Physics at Eötvös Loránd University in Budapest, received his MSc in 1989, dr. of Technology in 1995, PhD in 2003. From 1989 till 1997 he worked as a lecturer and scientist at the Gödöllő Agricultural University, from 1997 till 2001 as Attaché for Science & Technology at the Hungarian Embassy in Bonn. In 2001 he joined the Hungarian Ministry of Education as Program Director for International Bi-lateral R&D Cooperation. In 2004 he took office as Head of Unit for Key Technologies in the National Office for Research & Technology. In 2007 he became Senior Scientist and Program Manager at Collegium Budapest, Institute for Advanced Study, in 2009 Senior Scientist and International Expert in the Bay Zoltán Foundation for Applied Research. 2002 – 2003 he was Invited lecturer at the College of International Management and Business of the Budapest Business School, 2008 – 2010 Eötvös Loránd University in Budapest, Faculty of Science, since 2013 invited lecturer at the Károli Gáspár University. Since January 2015 Dr Kardon is Chief Scientific Officer at the Regional Centre for Information & Scientific Development Ltd. He has been involved in the European framework programmes for R&I since 1994 and has a special emphasis on international cooperation, on education activities and strongly believes that education is the best way to reverse inequalities (on personal level, education and scientific research on country level).
---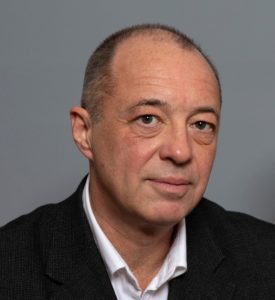 Péter Krasztev is a social scientist, literary historian and translator, Associate Professor at Budapest Business School (Department of Communication). After receiving his Ph.D. in 1995 he published three edited volumes, one monograph on Central-East European Literary Symbolism (1995) and a collection of studies on film, anthropology and literature (in Hungarian, Bulgarian, Macedonian and Russian). His anthropological documentary movies have been screened on numerous TV channels in Europe. In the last two decades he lectured among others at the CEU, ELTE, METU (all three Budapest), Comenius (Bratislava); EKF (Eger). He worked as an International Expert for an EU social support project in Belgrade for two years, and later was employed by the Ministry of Culture as a director of the Hungarian Cultural Institute in Bratislava. Since 2015 he is a regular expert for Horizon 2020 and Erasmus+ programmes.
---
' I was able to deal with children several times in Hungary and the Netherlands. It was always a huge pleasure for me to see if I could occure a fun day for a children despite their difficult circumstances. I hope the project will make everyday life easier for many families and children'.
---
Ms Johanna Kardon was born in Budapest on November 29, 1990. She studied costume design (professional education; 2010-2012), then international relations, received her BA at King Sigismund University in 2015 and became International Relations Expert (MA) in 2018 at University of Milton Friedman. Ms Kardon worked at the international catering company Katlan Tóni Culture-kitchen as a sales assistant and client coordinator in 2014. During her Master's studies she worked at Cognizant Technology Solutions Hungary (2015-2018) as a Service Desk Analyst and Trainer. Between 2018 and 2021 Ms Kardon was on maternity leave as a mother of two children. In 2022 she started to work as international expert and project manager at RCISD.